Is This You?
Do You Need Courage?
Do you want to take the NEXT step in your life but you are unsure where to take that step or how to do so?
Are you fearful? Are you facing your own large "Life - battle" and feeling overwhelmed, needing to prioritize because you are stuck and unsure of how to move forward?
Are you a parent needing courage to do the right thing and lead your children as a Christian Mom?

Are you in a rut at work needing courage to advance and to pursue your calling using your God-given gifts and talents?

Are you needing courage to take that leap of faith in a relationship or athletically or to improve your health?

Are you needing courage to fight the largest health battle of your life?

Are you needing courage to be a caregiver and advocate for someone you love?
Are you needing courage to finally prioritize some time for you in some area of your life?

Are you needing courage to walk ... no run ... after Jesus and to really live out your faith with abandon?

Are you aware that you already ARE a leader?
If This Does Look Like You:
If you are looking for a proven professional who can guide you to address what is holding you back, keeping you stuck in your fear, standing in the way of your personal change and growth and development of courage ... then you've come to the right place.
Kathleen's mission and commitment is to coach women in "retreating" long enough to get an honest broad view of who they are, whose they are and define the help they need in finding their desired end result. With years of experience, working with amazing clients with similar worries and concerns … and by the grace of God … she has had the humbling privilege of being part of the process of guiding them to achieve marked progress.
She helps her clients "advance" by helping them take a "Personal Retreat" long enough to re-look at their stories and foundations. Then together they design a plan of action to implement by listening to Him, adjusting the plan, and move forward toward His goals for them. She "runs along-side them" in the process as they develop the courage to run and accountability. Sometimes they fall back but she is all about helping them learn to get back up and "get on the horse they fear" before the fear of the pain keeps them from achieving the blessing of following their calling from the Lord.
In accomplishing and achieving these steps her clients are excited about seeking God's calling and will for their life putting their passions, gifts, talents, personality and skills into play to be used for His glory.
She takes great delight in not just helping her clients survive their life-battles but thrive, growing as a warriors of the faith. She believes firmly in paying-it-forward to the next "generation" of warriors by personally becoming an "influencer" for godliness to the those coming along after her in the life-journey ... and helping other women to do the same.

Get in touch with Kathleen today to learn about her programs and services or schedule a 30 minute complimentary Discovery Session.
Christian Life Coach. Speaker. Author.
Kathleen loves speaking to women who are eager to take a deeper dive into courage as followers of Jesus. As she speaks to groups of women in workshops, retreats, churches, leadership groups and schools she is a firm believer that each woman CAN and does touch the world and move people into action either purposefully or by default! She believes everyone leads at some level and has an important circle of influence, therefore, living authentic personal lives and personal walks with the Lord does matter both here and for eternity! As its' been said "Courage is being scared to death and saddling up anyway!" which applies to everything from personal change, our work and entrepreneurial environments, parenting with purpose, relationships with others, facing health challenges in ourselves or with others we love ... even surrendering more fully in our walks with God.
Coach Kathleen also offers One Day Personal Coaching Retreats for those women local to her office or desiring to travel into southern California. These personal retreats are custom designed days of relaxation and fun plus the added caveat of personal coaching. They are designed especially with you in mind and what you would consider to be a blessing in your life! These are for women only, you must be over 18 years of age and personal retreat clients are accepted by application only. These exclusive retreats are limited to 12 women per year, one scheduled per month only. Gift certificates possible.
As an author Kathleen has authored and been a collaborating author for several works including writing the More Beautiful Discussion Guide (Bible study for those going through cancer and their loved ones) for www.MusicfortheSoul.org and being one of seven collaborating authors for Leadership Goldmine: 24 Nuggets for Lasting Success by Leelo Bush, PHD. Founder of PCCCA. She writes a Coaching E-letter and Blog "Gentle Nudgings" which you are invited to subscribe to and is currently working on her newest book which prayerfully will debut 2016-2017.
From the Desk of Kathleen: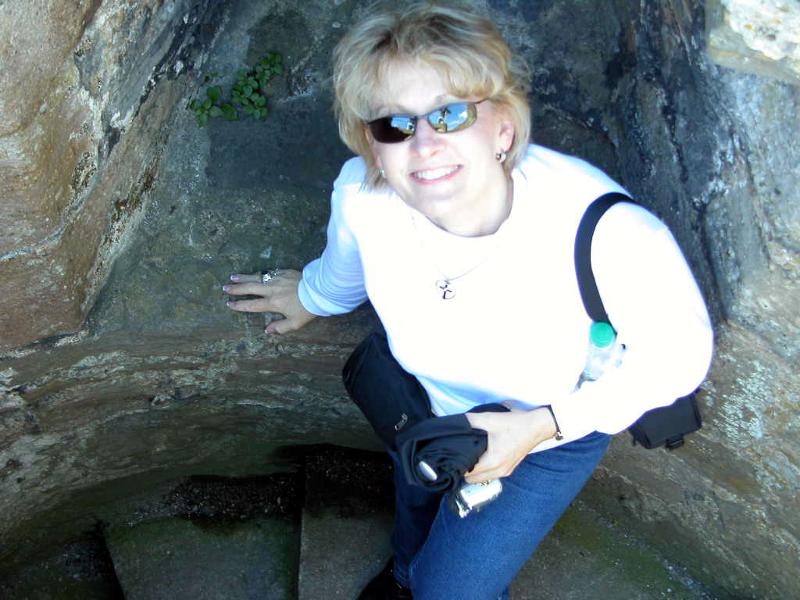 (A photo from the stairwell in the Blarney Castle in Ireland! Love to travel!)

It would be my pleasure to guide you toward the goals and dreams you have on your heart in a coaching relationship as you grow in your relationship with the Lord. Watching you grow in courage as a woman toward your calling, increasing your leadership and influence for Him and making a difference and leaving a legacy would be my privilege! Let's continue the conversation in the manner that suits you best. My contact information is below. Leave a message on my work voicemail or email me ... whichever you'd prefer.
I have had the privilege of working with many women ... maybe just like you ... as a Coach. I also want to give you the Free Gift you see on the right of this page which gives you the one major nugget I feel could make the transforming difference in you being prepared for your Life-Battle and being ready to face your fears ... having the courage to do so!

Submit your name in the form to the right and you'll receive this Special Free Gift ... PLUS additional surprises to help you quickly get started in your coaching journey.

Blessings!
Coach Kathleen
Master Certified Christian and Professional Life Coach, PCCCA

I am an imperfect daughter of God the Father and worshipper of Jesus Christ, my Lord. I cling to the Holy Spirit and His goodness, direction and calling in my life. I have been broken through many life-battles yet I have been blessed deeply by His love and purpose my days to live out the hope of the Gospel. It is my passionate desire and deep joy to encourage women to live in grace and truth and be equipped to have victory in their life-battles. I love the Word of God and believe that the Bible is the only divinely inspired Truth.
"But as for me, I will sing about your power. Each morning I will sing with joy about your unfailing love. For you have been my refuge, a place of safety when I am in distress. O my Strength, to you I sing praises, for you, O God, are my refuge, the God who shows me unfailing love." Psalm 59: 16 NLT